Ronan Johnson wasn't immediately good at soap box derby racing. The 9-year-old Camano Island boy was eliminated in his first two rounds at the old Stanwood course in 2011. It didn't matter. He was hooked.
"I like going fast, and the Stanwood track was perfect for that," Ronan said of the steep hill down 276th Street by the Stanwood Senior Center. "That's the fastest track I have been on."
Three years later, the self-described "super competitive" kid won his age group and division at the Stanwood race. It would be just one of more than 100 first-place finishes he would rack up over the next 10 years traveling the country with his custom soap box derby car — including his most recent win was the NDR National Championships at Indianapolis in the Legacy and Masters Divisions last month.
"The harder we worked, the more we won," said Ronan's father, Rich Johnson.
The now 19-year-old Ronan, a seven-time National Champion, continues to practice at the dedicated track at Camano Island's Arrowhead Ranch, now home to the area's soap box derby events.
"He is the only driver in history to win seven National Championships; the nearest to him has five," Rich said.
Rich said his son's ability to compete under pressure helped power him to all those checkered flags in the gravity-powered races for ages 7-21, mostly managed by the Ohio-based International Soap Box Derby.
"Even the best set-up car won't win if you don't have a really, really good driver, so we are really fortunate Ronan has turned into a really, really good driver," Rich said. "You have to have the combination of a good car and good driver."
It was the perfect sport for their family, said Rich, a chief engineer at Boeing.
"This is an activity where both boys and girls compete against each other," Rich said. "We just like the family vibe of the different people you meet and families you get to know."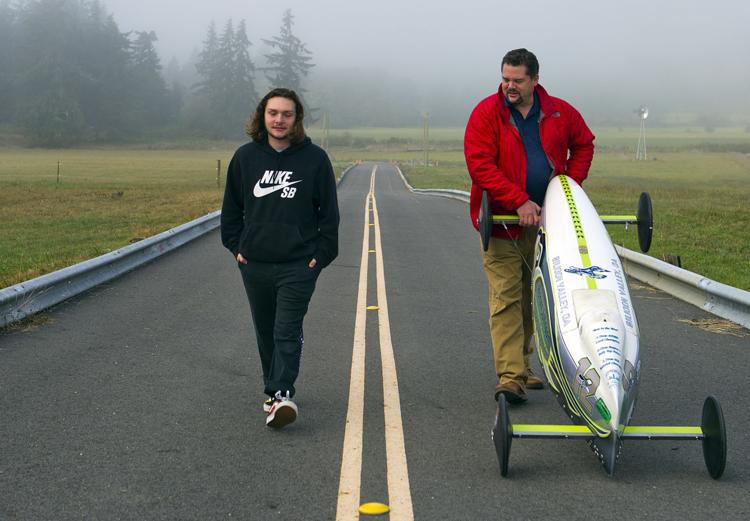 Rich and his son and daughter worked together building the derby cars and mentoring along the way. Meanwhile, mother Allison is race team manager who helped manage travel, meals and Ronan's race day schedule. For a couple years, both Ronan and his older sister Willa raced so it was a whole family activity. Their family team name is Scuderia Veloce, Italian for "Stable of Speed."
"If you don't have a village of people helping you, you can't be successful at the highest levels," Rich said.
Soap box derby racing has kept Ronan and his family close, but he also has become part of the national soap box racing community.
"It's all positive energy and people are really friendly," Ronan said.
The Johnsons even started a father-son YouTube channel about soap box derby racing to provide information to other families interested in getting involved.
Locally, the Stanwood Camano Soap Box Derby typically takes place in mid-June, but the event was canceled this year due to the COVID-19 pandemic. In 2019, about 1,000 people watched a record 93 racers race for glory.
Meanwhile, Ronan knows he's nearing his career's finish line.
"I'll probably do this one or two more years," he said. "I'm going to be busy with school, and I feel like … maybe just slow down but not stop completely."
Ronan will participate in three races in November in Florida and Tennessee.
Click HERE to read the full article.